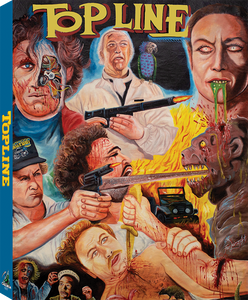 Down and out author Ted Angelo (Franco Nero - Django) finds a U.F.O. while searching a cave for treasure. When he tries to warn the media, he soon becomes hunted by various clandestine organizations, but with the help of his new friend, June (Deborah Moore - Warriors of the Apocalypse), they search for the truth while evading certain death. Have the Aliens taken over the world? I want to believe!
Co-starring George Kennedy (Creepshow 2), William Berger (Keoma), and Mary Stavin (Howling V), Directed by Nello Rossati (Django Strikes Again), with gooey practical effects by Francesco and Gaetano Paolocci (Silver Bullet), Top Line is a late '80s, mind melting sci-fi adventure! With all new special features including an interview with the legend himself, Franco Nero, and sourced from a 2K scan of the camera negative, Cauldron Films is out-of-this-world pleased to present this future classic for the first time ever on Blu-ray. Top Line is here to win hearts and take over minds!

Details:

2K restoration from the negative / 1080p presentation

English audio

Optional English SDH subtitles

Italian audio w/ English subtitles
Extras:

Black Top! An Interview with Franco Nero (22 minutes)

The Strange Case of Ted Archer: An interview with Eugenio Ercolani (33 minutes)

Alien Terminated: The Alien theories of Top Line by parapolitics researcher Robert Skvarla (12 mins)

In depth audio commentary by film historian Eric Zaldivar including audio interviews from cast members, Deborah Moore and Robert Redcross, with additional insight on Italian cult films with actors Brett Halsey and Richard Harrison.

Booklet - Limited edition only

Double sided poster - Limited edition only

High quality slipcase w/ artwork by Ghanaian artist Farika in conjunction with Deadly Prey Gallery - Limited edition only

Reversible Blu-ray wrap with alternate artwork

Limited to 1500 copies
1988 / Italy / 1.66:1 / Sci-Fi, Action, Mystery / Director - Nello Rossati / Region A

DUE TO CONTRACTUAL OBLIGATIONS WE CAN ONLY SHIP THIS ITEM TO THE US AND CANADA. ALL ITEMS ORDERED TOGETHER WILL BE CHARGED AT THE TIME OF THE ORDER AND SHIP TOGETHER WHEN EVERYTHING IS IN STOCK. PLEASE PLACE MULTIPLE ORDERS IF YOU WISH TO HAVE ITEMS SHIPPED AS THEY ARRIVE. ALL DETAILS, INCLUDING RELEASE DATE ARE SUBJECT TO CHANGE. LIMIT 2 PER CUSTOMER.