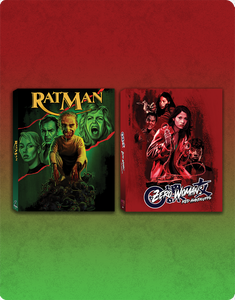 This item is a pre-order. Ships end of September 2023.
Includes both limited edition Rat Man Blu-ray/CD with slipcase and Zero Woman: Red Handcuffs Blu-ray with slipcover. Discount available while supplies last.
DUE TO CONTRACTUAL OBLIGATIONS WE CAN ONLY SHIP THIS BUNDLE TO THE US AND CANADA. ALL ITEMS ORDERED TOGETHER WILL BE CHARGED AT THE TIME OF THE ORDER AND SHIP TOGETHER WHEN EVERYTHING IS IN STOCK. PLEASE PLACE MULTIPLE ORDERS IF YOU WISH TO HAVE ITEMS SHIPPED AS THEY ARRIVE. ALL DETAILS, INCLUDING RELEASE DATE ARE SUBJECT TO CHANGE. LIMIT 2 PER CUSTOMER.