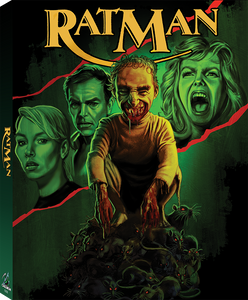 This item is a pre-order. Ships end of September 2023.
After her fashion model sister is brutally murdered on a tropical island, Terry (Janet Agren, City of the Living Dead), flies out to investigate the shocking crime. As the mystery deepens, Terry and her new friend Fred (David Warbeck, The Last Hunter) quickly find that there is a killer on the loose!  As the body count mounts, the survivors work desperately to out-maneuver the shadowy monster that is hunting them down one by one. Could it be Dr. Olman's deadly genetic experiment has escaped from captivity, or is it just a typical knife-wielding psychopath?
Produced by Fabrizio De Angelis (The Beyond), Directed by Giuliano Carnimeo (Exterminators of the Year 3000), Written by Dardano Sacchetti (Bronx Warriors), with a score by Stefano Mainetti (Zombie 3), and starring the one and only Nelson de la Rosa as "Mousey" (The Island of Dr. Moreau), Rat Man is exactly what you'd expect in a late 80s bloody and unhinged Italian horror meltdown! Cauldron Films is pleased to present Rat Man restored in 4K from the original negative and filled with fang-tastic  extras!

Details:

4K restoration from the negative  / 1080p presentation

English 2.0 mono

Optional English SDH subtitles

Extras:

Lighting the Rat Man: Interview with cinematographer Roberto Girometti

Framing the Rat Man: Interview with camera operator Federico Del Zoppo

Just a Fin: Audio interview with post-production consultant Alberto De Martino

Commentary by film historians Eugenio Ercolani, Troy Howarth, and Nathaniel Thompson

Trailer

Double sided poster - limited edition only

Soundtrack CD with music by Stefano Mainetti - limited edition only

Limited slipcase with artwork by Justin Coffee - limited edition only

Reversible Blu-ray wrap with alternate artwork

Limited to 1500 copies

All Region

1988 / Italy / 1.66:1 / Horror / Director - Giuliano Carnimeo

DUE TO CONTRACTUAL OBLIGATIONS WE CAN ONLY SHIP THIS ITEM TO THE US AND CANADA. ALL ITEMS ORDERED TOGETHER WILL BE CHARGED AT THE TIME OF THE ORDER AND SHIP TOGETHER WHEN EVERYTHING IS IN STOCK. PLEASE PLACE MULTIPLE ORDERS IF YOU WISH TO HAVE ITEMS SHIPPED AS THEY ARRIVE. ALL DETAILS, INCLUDING RELEASE DATE ARE SUBJECT TO CHANGE. LIMIT 2 PER CUSTOMER.