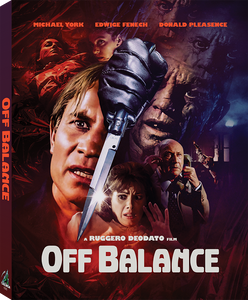 The Rage of a Man Forced to Die has No Limits!
When a mysterious disease befalls young, virtuosic pianist Robert Dominici (Michael York — Austin Powers), he begins a violent, murderous rampage taunting authorities with his whereabouts. As Robert's brain and body rapidly decay, Inspector Datti (Donald Pleasence — Halloween, American Rickshaw) must race to find him before he kills again!

Directed by Ruggero Deodato (Cannibal Holocaust), co-starring Edwige Fenech (The Strange Vice of Mrs. Wardh) and Giovanni Lombardo Radice (City of the Living Dead), with Special Effects by Dino Galiano (Four Flies on Grey Velvet) and written by Gianfranco Clerici (The House of Clocks), Off Balance is an '80s Giallo-infused, carnal ride of violence and body-horror seen through the mind of a genius driven mad by a cruel and unstoppable disease. Cauldron Films presents Off Balance for the first time ever on Blu-ray, uncut and restored in 2K from the camera negative. Featuring one of the final interviews with controversial director Ruggero Deodato, commentary by Troy Howarth and Eugenio Ercolani, and CD soundtrack with music by Pino Donaggio (Blow Out), this release is a must have for Italian Horror maniacs!

Details:

2K restoration from the negative / 1080p presentation

English audio

Optional English SDH subtitles

Italian audio w/ English subtitles

Extras:

An Uncommon Director - An interview with Ruggero Deodato, one of the final interviews with the controversial director filmed July 2022 (33 min)

Commentary with film historians Eugenio Ercolani and Troy Howarth

Trailer - Italian

Trailer - English

CD soundtrack w/ music by Pino Donaggio - limited edition only

Double sided poster - limited edition only  

High quality slipcase featuring artwork by Eric Adrian Lee - limited edition only 

Reversible Blu-ray wrap with alternate artwork

Limited to 1500 copies

A.K.A. Phantom of Death, Un Delitto Poco Comune
1987 / Italy / Horror, Giallo, Thriller / 1.66:1 / Director - Ruggero Deodato / Region A
DUE TO CONTRACTUAL OBLIGATIONS WE CAN ONLY SHIP THIS ITEM TO THE US AND CANADA. ALL ITEMS ORDERED TOGETHER WILL BE CHARGED AT THE TIME OF THE ORDER AND SHIP TOGETHER WHEN EVERYTHING IS IN STOCK. PLEASE PLACE MULTIPLE ORDERS IF YOU WISH TO HAVE ITEMS SHIPPED AS THEY ARRIVE. ALL DETAILS, INCLUDING RELEASE DATE ARE SUBJECT TO CHANGE. LIMIT 2 PER CUSTOMER.