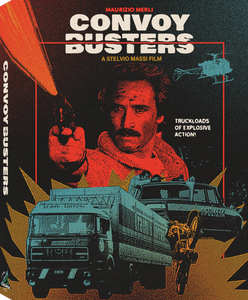 After brandishing his gun and badge too many times in front of powerful people, Maurizio Merli (Violent Naples and The Cynic, The Rat, and The Fist) is busted down from Homicide to Emergency Squad. Despite his demotion, he is not content with letting Rome's criminal element run rampant and his violent nature soon finds him the target of both the press and the local mob. After a bloody attempt on his life, he is transferred to a quiet coastal town to run a local department but, never one to leave things alone, he quickly finds a dangerous smuggling ring is using the cover of the sea and darkness to run their operations in his sleepy district. 
With it's daring stunt work, violent shoot-outs, and split storyline, featuring a Stelvio Cipriani (Colt 38 Special Squad) score with excellent performances from Olga Karlatos (Zombie, Purple Rain) Massimo Serato (Autopsy, Don't Look Now) and Italian cinema stalwart Mimmo Palmara (Violent Rome, Sicilian Connection) Convoy Busters ranks highly among the 70s Italian Crime Genre. 

Cauldron Films presents Stelvio Massi's  (Emergency Squad, The Last Round) high octane poliziotteschi Convoy Busters on Blu-ray featuring a 2K restoration from the negative with both English and Italian audio options and fully loaded with brand new and archival extras!

Details
Blu-ray
2K restoration from the negative / 1080p presentation
English audio
Optional English SDH subtitles
Italian audio w/ English subtitles
New extras

Maurizio Merli: A Lethal Hunter of Subtle Variation with tough-guy film expert Mike Malloy
My Father, the Cop: Interview with Maurizio Matteo Merli
The Massi Touch: Interview with Danilo Massi
Stelvio Massi video tribute by Danilo Massi
Stelvio Massi Image gallery
Commentary by Mike Malloy & Mike Martinez
Archival extras

Alternate "Convoy Busters" title sequence
A Star Was Born - A conversation with journalist Eolo Capacci
Bullet in the Closet - A conversation with director Ruggero Deodato
ER Prota - A conversation with director Enzo G Castellari
Merli on Merli - a conversation with actor Maurizio Matteo Merli
My Good Fella Maurizio - A conversation with actor Enio Girolami
Maurizio Merli image gallery
Trailer - Italian
Trailer - English
Poster (folded) - limited edition only

High quality slipcase w/ artwork by Haunt Love - limited edition only
Limited to 1500 copies
Region A
1978 / 100 mins. / Italy / Action, Crime / 1.85:1 / Director - Stelvio Massi