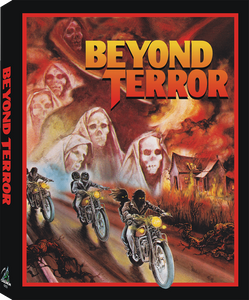 Their Nightmare Was Further than Fear... It was BEYOND TERROR !
After a drug-fueled night of  violence, a group of young degenerates and their hostages find themselves stranded in a remote, abandoned church in rural Spain. Their evening of debauchery and blasphemy quickly turns to greed when they discover a local legend that tells of a vast fortune guarded by mummies in the catacombs beneath the ruins. Their lust for the treasure is short-lived as they find that the supernatural horror in the catacombs is something further than fear… it is Beyond Terror!
Beyond Terror (Más allá del terror) is a lost gem that is long overdue for rediscovery. Never available on home video in the United States, Beyond Terror makes its worldwide Blu-ray debut from Cauldron Films with a brand new 4K scan from the camera negative that has been restored to its original grim glory. Co-written by Juan Piquer Simón (Pieces, Slugs), this early '80s hybrid unfolds like an homage to Amando de Ossorio's Tombs of the Blind Dead, by way of Mario Bava's Rabid Dogs, with a healthy dose of violence, gore, sex, eerie crypts and supernatural revenge!
Commentary by Film Historan Kat Ellinger
Image gallery with soundtrack
Spanish audio
English subtitles
4K restoration from the original negative
Mini press book reproduction booklet including writings about the film by Scott Carlson (limited edition only)
Double sided mini lobby card reproductions (limited edition only)
High quality side loaded slipcase (limited edition only)
Reverse Blu-ray wrap featuring the original Spanish title and poster art
Limited to 1800 copies

1.66:1

83 minutes
Unrated
A.K.A. Más allá del terror, Further Than Fear, Terrorgang
1980 / Spain / Horror / Director - Tomás Aznar
DUE TO CONTRACTUAL OBLIGATIONS WE CAN ONLY SHIP THIS ITEM TO THE US AND CANADA. ALL ITEMS ORDERED TOGETHER WILL BE CHARGED AT THE TIME OF THE ORDER AND SHIP TOGETHER WHEN EVERYTHING IS IN STOCK. PLEASE PLACE MULTIPLE ORDERS IF YOU WISH TO HAVE ITEMS SHIPPED AS THEY ARRIVE. ALL DETAILS, INCLUDING RELEASE DATE ARE SUBJECT TO CHANGE. LIMIT 1 PER CUSTOMER.