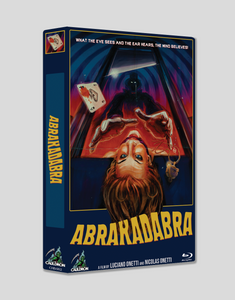 These high quality clamshell style "hardbox" cases have been a staple of European Cult Blu-ray and DVD collections for years and are now available featuring our first wave of Cauldron Titles.   The boxes feature new variations on their respective artwork printed directly on the rigid case and coated in gloss to fit the 80s VHS Big Box aesthetic.   Hand Numbered and Very Limited ! 
Size approximately 8.5" x 5.75" x 1"

What the eye sees and the ear hears, the mind believes!
Thirty years after his father is tragically killed during a magic trick gone wrong, Lorenzo's own magic act is suddenly derailed by a series of gruesome magic themed murders.   Struggling to prove his innocence,  he begins to unravel the mystery that leads him through an intricate, bloody trail all the way back to his father's demise. 
Filled with a pulsing Goblin-esque soundtrack, 70s atmosphere and all the earmarks of a classic Giallo, Abrakadabra at once pays homage to the bloody films of Dario Argento and Sergio Martino, while firmly taking its own place in the genre alongside its companion films in the Onetti Brothers' Giallo Trilogy: Francesca and Sonno Profondo
CD soundtrack with music by Luciano Onetti
Behind the Scenes
Trailer
Italian 5.1, Italian 2.0, and English 2.0 audio options
English & Spanish subtitles
2018 • 70 minutes • Italian & English audio • English & Spanish subtitles • Unrated

 
DUE TO CONTRACTUAL OBLIGATIONS WE CAN ONLY SHIP THIS ITEM TO THE US AND CANADA.  
ALL ITEMS ORDERED TOGETHER WILL BE CHARGED AT THE TIME OF THE ORDER AND SHIP TOGETHER WHEN EVERYTHING IS IN STOCK. PLEASE PLACE MULTIPLE ORDERS IF YOU WISH TO HAVE ITEMS SHIPPED AS THEY ARRIVE
WE ONLY OFFER STORE CREDIT FOR THE CANCELLATION OF ANY PREORDER
ALL DETAILS, INCLUDING RELEASE DATE ARE SUBJECT TO CHANGE