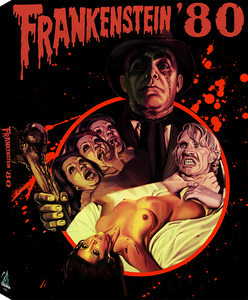 When Professor Schwarz invents a new serum that helps transplant patients better accept their new organs, Dr. Frankenstein quickly steals it to bring to life his greatest creation… Mosaic! Once alive, Mosaic is uncontrollable and escapes from the lab nightly to solicit prostitutes and leave a trail of corpses across the city that only seems to baffle the police and create a wave of fear. 
Mario Mancini's (camera operator on Mario Bava's Blood and Black Lace and Black Sunday) only film as director is a stylish, gory, and sleazy take on the Frankenstein story in true Italian exploitation fashion. With nods to giallo films, a streak of dark humor, featuring gruesome special effects by Carlo Rambaldi (E.T., Bay of Blood) and starring Gordon Mitchell  (Shanghai Joe), Xiro Papas (Black Killer), John Richardson (Black Sunday), Renato Romano (The Fifth Cord) and Dalila Di Lazzaro (Flesh for Frankenstein), Cauldron Films is delirious to present Frankenstein '80, uncensored and restored on Blu-ray for the first time to an unsuspecting North American audience.
Details

Blu-ray
2K restoration from the uncensored negative / 1080p presentation
English audio
Optional English SDH subtitles
Italian audio w/ English subtitles
Extras

Dalila Forever: The Recorded Memories of Dalila Di Lazzaro (28 min.)
Little Frankensteins: History of Italian Frankenstein films with Domenico Monetti (38 min.)
Audio commentary by film historian Heather Drain 
Reversible Blu-ray wrap with alternate artwork
Booklet - limited edition only
Poster (folded) - Double sided poster featuring new artwork by Putrid Matt and Justin Coffee - limited edition only
High quality slipcase w/ artwork by Justin Coffee - limited edition only
Limited to 1500 copies
1972 / 88 mins / 1.85:1 / All Region
DUE TO CONTRACTUAL OBLIGATIONS WE CAN ONLY SHIP THIS ITEM TO THE US AND CANADA. ALL ITEMS ORDERED TOGETHER WILL BE CHARGED AT THE TIME OF THE ORDER AND SHIP TOGETHER WHEN EVERYTHING IS IN STOCK. PLEASE PLACE MULTIPLE ORDERS IF YOU WISH TO HAVE ITEMS SHIPPED AS THEY ARRIVE. ALL DETAILS, INCLUDING RELEASE DATE ARE SUBJECT TO CHANGE. LIMIT 2 PER CUSTOMER.