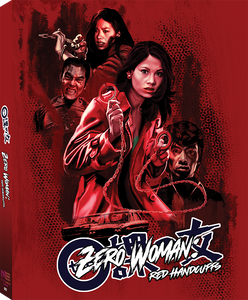 There was a print over-run with SLIPCOVER ONLY, NO BOOKLET. 
When these are gone, that's it! Quantities are very limited!
Standard edition will release in early 2024
When renegade cop Rie (played by top Toei starlet Miki Sugimoto — Girl Boss: Escape from Reform School) goes too far in bringing justice to untouchable bigwigs, only a dangerous mission to rescue a politician's daughter will keep her out of jail for good. She readily takes on the task, only to find it more complicated and deadly than she suspected. After a relentless pursuit and run-ins with despicable yakuza thugs, Rei finds herself a target of a wider criminal conspiracy the outcome of which will leave almost no one alive.
Zero Woman: Red Handcuffs is a prime example of the "pinky violence" series of exploitation films that were made at Toei Studios in the early to mid-1970s. Though a short-lived genre, several true cult classics were made, of which Zero Woman: Red Handcuffs is one of the best and most influential. Based on an infamous adult manga series, this film is a delirious riot of action, sleaze, and outrageous style directed by genre master Yukio Noda (Golgo 13: Assignment Kowloon). Neon Eagle Video delivers Zero Woman: Red Handcuffs to it's worldwide Blu-ray debut from a gorgeous new blood-splattered 4K restoration!

Details

4K restoration / 1080p presentation

Japanese 2.0 mono

English subtitles

Extras:

Audio commentary by film historian Samm Deighan 

Sex + Violence = Pinky Violence: TokyoScope author Patrick Macias on Zero Woman: Red Handcuffs

Image Gallery
Limited slipcover with artwork by Justin Coffee

Reversible Blu-ray wrap with alternate artwork

Limited to 1500 copies

Region A

A.k.a - Zeroka no onna: Akai wappa

1974 / Japan / Pinky Violence, Action, Crime / Director - Yukio Noda

DUE TO CONTRACTUAL OBLIGATIONS WE CAN ONLY SHIP THIS ITEM TO THE US AND CANADA. ALL ITEMS ORDERED TOGETHER WILL BE CHARGED AT THE TIME OF THE ORDER AND SHIP TOGETHER WHEN EVERYTHING IS IN STOCK. PLEASE PLACE MULTIPLE ORDERS IF YOU WISH TO HAVE ITEMS SHIPPED AS THEY ARRIVE. ALL DETAILS, INCLUDING RELEASE DATE ARE SUBJECT TO CHANGE. LIMIT 2 PER CUSTOMER.