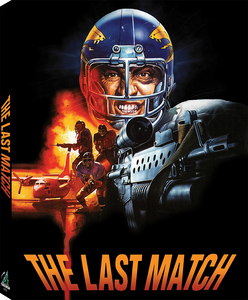 Get ready for the most important game of your life where one mistake means Game Over!
What do you do when your daughter is framed for drug smuggling during a Caribbean vacation while being held in jail by a sadistic warden (Henry Silva - Escape from the Bronx)?  If you are football star Cliff Gaylor (Oliver Tobias - Cobra Mission), you call an audible and do whatever you can to get her out! But when the American Consulate (Charles Napier - Beyond the Valley of the Dolls) doesn't want to be involved and the local attorney (Martin Balsam - Psycho) only wants you to grease his palm with no guarantees, your only choice is to take matters into your own hands. Before he can even call the next play, his coach (Ernest Borgnine - Code Name: Wild Geese) and the rest of the football team (in full uniform!) are on a plane packed with weapons and money aimed to free his daughter or die trying!

Veteran Italian Producer and Director Fabrizio De Angelis' (Ratman) The Last Match starts as an engaging exploitation drama about a father's frustration of trying to free his daughter from the evils of another country's prison that quickly escalates into a jaw-dropping, action packed showdown where no helicopter is safe! With a screenplay co-written by Gianfranco Clerici (The New York Ripper) and his frequent collaborator Vincenzo Mannino (The Sweet House of Horrors) and shot by Giuseppe Ruzzolini (Duck, You Sucker!), The Last Match is a classic early '90s action spectacle making its US home video and worldwide Blu-ray debut from a new 4k restoration struck from the camera negative and featuring all new special features! 

Details:

4K restoration from the negative  / 1080p presentation

English audio

Optional English SDH subtitles

Extras:

Blown Away: An Interview with Special Effects artist Roberto Ricci (16 min)

American Actors in a Declining Italian Cinema: Minidoc by EUROCRIME! director Mike Malloy (29 mins)

Understanding the Cobra: A video-essay by Italian film expert Eugenio Ercolani (17 min)

Commentary by Italian exploitation movie critic Michael A. Martinez

Trailer

Image Gallery

Booklet with writings from Jacob Knight and David Zuzelo - Limited edition only

Double sided poster - Limited edition only

High quality slipcase featuring original artwork - Limited edition only

Reversible Blu-ray wrap with alternate artwork

Limited to 1500 copies

1991 / Italy / 1.66:1 / Action, exploitation / Director - Fabrizio De Angelis / All region
DUE TO CONTRACTUAL OBLIGATIONS WE CAN ONLY SHIP THIS ITEM TO THE US AND CANADA. ALL ITEMS ORDERED TOGETHER WILL BE CHARGED AT THE TIME OF THE ORDER AND SHIP TOGETHER WHEN EVERYTHING IS IN STOCK. PLEASE PLACE MULTIPLE ORDERS IF YOU WISH TO HAVE ITEMS SHIPPED AS THEY ARRIVE. ALL DETAILS, INCLUDING RELEASE DATE ARE SUBJECT TO CHANGE. LIMIT 2 PER CUSTOMER.