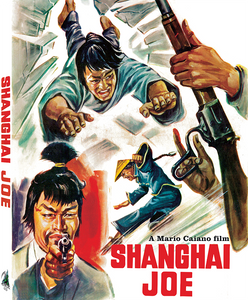 Chin Hao (Chen Lee/Myoshin Hayakawa), arrives in America looking for a better life, only to be faced with locals that don't take kindly to outsiders. Much to their surprise, Chin is not your average drifter as he rips his way through racist bad guys with his unstoppable fighting techniques. After word of his skills spreads, he gets a job at a ranch only to find that the owner, Stanley Spencer, is a cattle smuggling slave trader who brutalizes Mexican farmers and anyone else who dares get in his way. Chin ramps up the violence as he stops at nothing to free the slaves and enact revenge on the sadistic Spencer. 
Brilliantly directed by Mario Caiano (Nightmare Castle) and influencing modern films like Quentin Tarantino's Django Unchained, Shanghai Joe is a must have for fans of fast paced, bloody, action packed Westerns and Kung Fu films of the 70s. Loaded with practical gore effects and bone breaking fight choreography, Shanghai Joe also features a rogues' gallery of genre legends such as Klaus Kinski (Jack the Ripper), Gordon Mitchell (Endgame), Robert Hundar (Sabata), Giacomo Rossi Stuart (The Crimes of the Black Cat), Carla Romanelli (Gang War in Milan), Piero Lulli (My Dear Killer), and Katsutoshi Mikuriya! 

Cauldron Films presents Shanghai Joe on Blu-ray featuring a 2K restoration from the negative, both English and Italian audio options, CD soundtrack with music from Bruno Nicolai, and brand new extras!

Details
Blu-ray / CD set
2K restoration from the negative / 1080p presentation
English audio
Optional English SDH subtitles
Italian audio w/ English subtitles
Samurai Spirit: Interview with Master Katsutoshi Mikuriya
East Meets West: Italian Style - visual essay by film historian Eric Zaldivar
Commentary with film historian Mike Hauss from The Spaghetti Western Digest
Trailer
Poster (folded) - limited edition only
High quality slipcase - limited edition only
CD soundtrack - limited edition only
Limited to 1500 copies
1973 / 98 mins. / 2.35:1 / Italy / Western, Martial Arts / Director - Mario Caiano / Region A
A.K.A. Il mio nome è Shangai Joe, My Name is Shanghai Joe, The Fighting Fists of Shanghai Joe

DUE TO CONTRACTUAL OBLIGATIONS WE CAN ONLY SHIP THIS ITEM TO THE US AND CANADA. ALL ITEMS ORDERED TOGETHER WILL BE CHARGED AT THE TIME OF THE ORDER AND SHIP TOGETHER WHEN EVERYTHING IS IN STOCK. PLEASE PLACE MULTIPLE ORDERS IF YOU WISH TO HAVE ITEMS SHIPPED AS THEY ARRIVE. ALL DETAILS, INCLUDING RELEASE DATE ARE SUBJECT TO CHANGE. LIMIT 2 PER CUSTOMER.