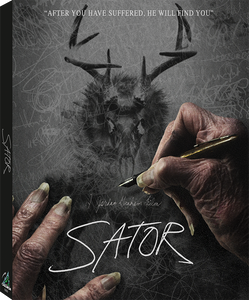 After You Have Suffered, He Will Find You

Secluded in a desolate forest, home to little more than the decaying remnants of the past, a broken family is further torn apart by a mysterious death. Adam (Gabriel Nicholson), guided by a pervasive sense of dread, hunts for answers only to learn that they are not alone; an insidious presence by the name of Sator has been observing his family, subtly influencing all of them for years in an attempt to claim them.

Shot in the Santa Cruz mountains and drawing from his grandmother's real life belief in a protective spirit that spoke to her, Sator quietly unspools a story of isolation and dread that fits firmly into the recent wave of unsettling arthouse horror. Cauldron films is honored to release the world-wide Blu-ray debut of Sator, the film Paste magazine named "The best horror film of 2021".

Details
English language 

5.1 surround
2.0 stereo
Optional English SDH subtitles
Behind the scenes
Director's commentary
Trailer
Mini-poster (folded) - limited edition only
High quality slipcase - limited edition only
Limited to 1000 copies
2019 / USA / Horror, Drama / Director - Jordan Graham / 85 min.