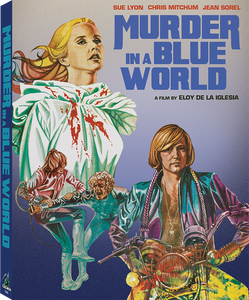 Brutal Savagery in a Future World!

In a violent, dystopian consumer-fed future, David (Chris Mitchum - Summertime Killer) blackmails nurse Ana (Sue Lyon - Stanley Kubrick's Lolita) after witnessing her commit a murder. When Ana and Victor (Jean Sorel - Perversion Story) discover David is a known gang member with an extensive criminal past, they make a plan to turn the tables and use him for their own clandestine purposes.   
In 1971 Stanley Kubrick changed dystopian cinema forever with A Clockwork Orange. Two years later, transgressive Spanish genre director Eloy de la Iglesia unleashed this thought provoking and beautifully shot future-world that was also known as A Clockwork Terror. Now Available For the first time on Blu-ray, Cauldron Films presents a new, eye popping 2K restoration of the Spanish producer's cut.  
Details
Blu-ray
2K restoration of the Spanish Producer's cut from the negative / 1080p presentation
English audio with optional English SDH subtitles
Spanish audio with optional English subtitles
Newly edited Archival interview with Chris Mitchum
Dubbing in a Blue World 
Video essay by Film Scholar Dr Xavier Aldana Reyes
Commentary by Film Historian Kat Ellinger
Image Gallery
Reverse Blu-ray wrap with alternate artwork
24 page booklet with images and "Reinventing Lolita in a Blue World" essay about the film by Kimberly Lindbergs - limited edition only
High quality side loaded slipcase - limited edition only
1973 / Spain / Thriller / Director - Eloy de la Iglesia / 2.40:1 / 97 min.

DUE TO CONTRACTUAL OBLIGATIONS WE CAN ONLY SHIP THIS ITEM TO THE US AND CANADA. ALL ITEMS ORDERED TOGETHER WILL BE CHARGED AT THE TIME OF THE ORDER AND SHIP TOGETHER WHEN EVERYTHING IS IN STOCK. PLEASE PLACE MULTIPLE ORDERS IF YOU WISH TO HAVE ITEMS SHIPPED AS THEY ARRIVE. ALL DETAILS, INCLUDING RELEASE DATE ARE SUBJECT TO CHANGE. LIMIT 2 PER CUSTOMER.