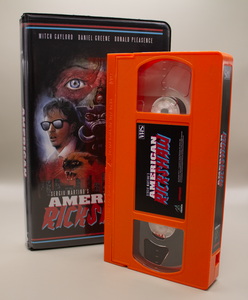 Presented in partnership with Lunchmeat!
After a stripper tricks him into filming a sex tape, Scott Edwards (Olympic Gold Medalist Mitch Gaylord), a Miami rickshaw runner, becomes embroiled in the murder of an evangelist's son when he inadvertently takes the wrong video tape. With the help of the stripper and an Asian witch, Edwards sets out to clear his name while avoiding the assassin dead set on retrieving the video tape.

Directed by Italian genre legend Sergio Martino (All the Colors of the Dark) and Written by Sauro Scavolini (A Man Called Blade) with a story by Roberto Leoni (Santa Sangre) this late 80s Miami-lensed Action/Horror hybrid features all of the action, nudity and bizarre practical effects you can handle. Cauldron Films and Lunchmeat are proud to present AMERICAN RICKSHAW (aka American Tiger / American Risciò), in all of its sun drenched glory.

This movie is INSANE. You gotta see it to believe it, Tapeheads!

Presented in widescreen format.

This is the first press limited to 100 copies, housed in large black clamshell cases:

· 50 Only One Thumb Orange Videocassettes (Only available from CAULDRON FILMS)

· 50 Beyond Bizarre Blue Videocassettes (Only from LUNCHMEAT, available here:  https://lunchmeatvhs.com/collections/vhs/products/american-rickshaw-vhs)