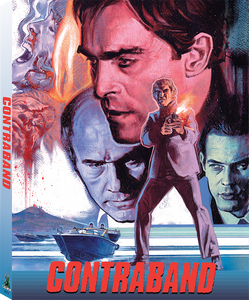 Naples, Italy: An idealistic cigarette smuggler, Luca, runs into problems when a sadistic drug dealing gangster from France decides to muscle his way into operations. As he tries to wipe out the competition, all hell breaks loose and the bodies start piling up! Luca joins forces with rival smugglers and the local mafia to counteract the power play, which only increases the body count until the explosive gun powder and gut bursting conclusion! 

Directed by Lucio Fulci (The Beyond), Contraband stars Fabio Testi (The Big Racket), Marcel Bozzuffi (The French Connection), Ivana Monti (Five Days in Milan), and Saverio Marconi (Padre Padrone). Featuring gruesome practical special effects by Germano Natali (Deep Red) and Roberto Pace (Body Count), with music by legendary composer Fabio Frizzi, Contraband is a hard hitting mafia story filmed through the eye of an unrelenting horror master - you have been warned! Contraband makes its worldwide Blu-ray debut via Cauldron Films, restored from a 4K scan of the negative. 

WARNING: Contraband contains scenes of graphic violence. It is Lucio Fulci…UNFILTERED

Details
Blu-ray / CD set
4K restoration from the negative / 1080p presentation
English language audio
Optional English SDH subtitles
Italian language audio with English subtitles
New Interview with writer Giorgio Mariuzzo
New Interview with actress Ivana Monti
New Interview with actor Saverio Marconi
Archival Interview with actor Fabrizio Jovine
Archival Interview with actor Venantino Venantini
Archival Interview with cinematographer Sergio Salvati
Archival Interview with composer Fabio Frizzi
New audio commentary by film historians Troy Howarth, Nathaniel Thompson and Bruce Holecheck
Image Gallery
Trailers
Reversible Blu-ray wrap with alternate artwork
CD soundtrack - Music by Fabio Frizzi - limited edition only
Mini lobby card reproduction postcard inserts - limited edition only
High quality side loaded slipcase featuring artwork by Graham Humphreys - limited edition only
1980 / Italy / Action, Crime / Director - Lucio Fulci / 1.85:1 / 97 min.
DUE TO CONTRACTUAL OBLIGATIONS WE CAN ONLY SHIP THIS BUNDLE TO THE US AND CANADA. ALL ITEMS ORDERED TOGETHER WILL BE CHARGED AT THE TIME OF THE ORDER AND SHIP TOGETHER WHEN EVERYTHING IS IN STOCK. PLEASE PLACE MULTIPLE ORDERS IF YOU WISH TO HAVE ITEMS SHIPPED AS THEY ARRIVE. ALL DETAILS, INCLUDING RELEASE DATE ARE SUBJECT TO CHANGE. LIMIT 2 PER CUSTOMER.